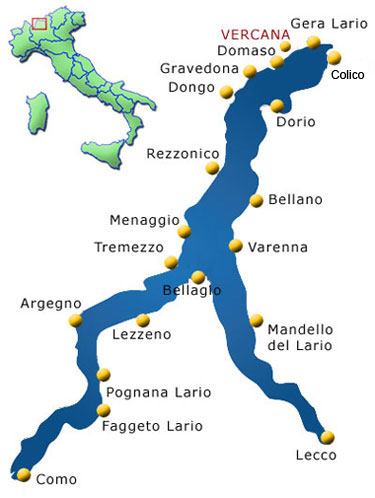 "That branch of the Lake of Como, which extend towards the south, is enclosed by two unbroken chains of mountains, which, as they advance and recede, diversify its shores with numerous bays and inlets. Suddenly the lake contracts itself, and takes the course and form of a river, between a promontory on the right, and a wide open shore on the opposite side. The bridge which there joins the two banks seems to render this transformation more sensible to the eye, and marks the point where the lake ends, and the Adda again begins – soon to resume name of lake, where the banks receding afresh, allow the water to extend and spread itself in new gulfs and bays…"
Taken from "The Betrothed" of Alessandro Manzoni.
Vercana is an hilly village reachable from Domaso, after a short climb. It consists of 7 small neighbourhoods and offers an amazing landscape that stretches from the mountains to the lake, from the rivers Adda and Mera to the peak of Bellagio.